Cheap Air Tickets with Virgin Atlantic
Founded by Sir Richard Branson in 1984, Virgin Atlantic is a full service international airline operating from London to 26 international destinations in the U.S., Asia, Africa, India, Dubai, the Caribbean and Australia. Virgin Atlantic's legendary in-flight products and services are now available to Hong Kong travellers with daily flights to destinations across the world.
What's onboard?
Economy Class - The fun starts here
All seats have personal TV screens with audio and video on demand so you stop, start, fast-forward and rewind all the action.
Up to 300 hours of award-winning entertainment on demand.
Three complimentary meal choices including a vegetarian option and free drinks for the whole flight.
Comfortable 2-4-2 seat configuration.
A free amenity kit with all the essentials for your flight.
Special kids menu, entertainment channel and K-iD backpack full of treats.
Premium Economy - Equivalent To Many Other Airlines' Business Class
With wide seats and pure comfort Virgin Atlantic's Premium Economy cabin has so much to offer. Relax, stretch out, unwind and experience the extra leg room and personal space. With premium service and a great selection of meals to choose from you'll have a premium flying experience when you travel in Virgin Atlantic's Premium Economy. The experience of travelling in Virgin Atlantic's Premium Economy Cabin was validated at the 2009 Business Traveller awards when it won best Premium Economy Cabin.
Upper Class - Virgin Atlantic's Business Class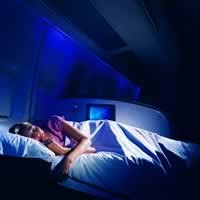 A clever 1-1-1 seat configuration means every seat faces forward and has aisle access - even the window seats.
Each Suite comes complete with an ottoman legrest that doubles as a seat for a guest, even when the seatbelt sign is illuminated.
Designed to be both the most comfortable seat AND bed in the air, your leather seat simply flips over at the touch of a button to form a fully flat and horizontal bed with a proper mattress, doona and fluffy pillow.
The Bed is 202cm (6' 7.5") long and 56cm wide, increasing to 84cm wide at the shoulders where it's 23cm wider than the Qantas Skybed, and over 30cm wider than those offered in business class by both Cathay Pacific and British Airways.
Personal video screen with up to 300 hours of award-winning entertainment on demand.
For those who feel more like socialising than sleeping, Virgin Atlantic's Upper Class features a unique onboard sit-down bar with a selection of fine wines and spirits.
Our Inflight Beauty Therapists offer a variety of stress-busting massages in a dedicated massage area, or an expert manicure in the comfort of your own Upper Class Suite.
We have done away with set meal times in Upper Class. Our unique Freedom Menu allows you to eat what you like when you like. From a snack to a three course meal, whatever you choose, it'll be freshly prepared and served at your seat or at the bar.
Flying Club
Virgin Atlantic's Flying Club is absolutely FREE to join and, with 16 partner airlines, is one of the most generous frequent flyer
programs around.
Flying Club partner airlines include Air New Zealand, Singapore Airlines, Malaysia Airlines, South African Airways, Gulf Air, Hawaiian Airlines, bmi, Scandinavian Airlines and Virgin Blue.
Other partners include American Express Membership Rewards, Avis, Hertz, Shangri-La Hotels, Mandarin Oriental Hotel Group, Hilton and many more.
Earn miles every time you take a qualifying flight with us or our partner airlines - Up to a massive 200% of miles flown in Upper Class.
Spend miles on great rewards including flights, upgrades, hotel stays and more.
Book your Virgin Atlantic cheap air tickets with Webjet and save!